CREDIT-TO-CASH OPTIMISATION DONE RIGHT
Esker's automated Credit Management solution optimises the entire credit approval and risk monitoring process, empowering credit teams with actionable data to make the best credit decisions possible. By transforming credit management into a more secure and efficient process, revenue is secured and customers are prevented from slipping through the cracks.
100% SIMPLICITY

Manage all credit application forms or internal credit requests from the user interface.

100% AUTOMATED

No more emails or manual processes needed to manage approval workflows.

100% SECURED

Credits are processed, approved & monitored in full compliance with your credit policy.

AUTOMATE CREDIT DECISIONS
If there's one thing credit teams know, it's complexity. So when it comes to managing all your customers, handling all those excel templates, and evaluating all that criteria to ensure the credit amount and terms are correct, a little simplicity goes a long way.
Esker delivers exactly what today's businesses need — an easy-to-use digital solution to streamline credit decisions and provide suggestions of credit limits and credit terms according to any customer's situation while helping to control risk and secure revenue.
CREDIT APPLICATIONS
EASY. SECURE. EVERYTHING YOU'VE ALWAYS WANTED.
Ever found yourself wanting an easier way to onboard customers? Or wishing that making consistent credit decisions while maintaining customer relationships and lowering risks wasn't such a pain? Say no more. Esker has you covered thanks to dynamic tools such as:
Persona Block Title:

Digital credit applications

Persona Block Text:

to create credit app templates and send them via email, embedded link, or included in sales quotes or communications

Persona Block Title:

Automated trade and bank references

Persona Block Text:

to configure automatically sent messages and reminders, while monitoring replies/calls to make via the dashboard 
 

Persona Block Text:

to configure the required level of approvals to secure the credit process for both new credits and credit reviews

Persona Block Title:

Third-party data integration

Persona Block Text:

to retrieve key scoring data from your preferred credit bureaus (e.g., Altares Dun & Bradstreet, CreditRiskMonitor, Ellisphere, Experian, Creditsafe, etc.)
CUSTOMER MANAGEMENT
THE RIGHT DATA, RIGHT WHEN YOU NEED IT MOST
Esker's automated customer management capabilities ensure that all relevant customer data is instantly accessible and easily manageable. With a 360-degree view of critical customer information, every credit decision you make is a no-brainer.
Credit risk data: Credit limit utilisation, risk category, internal & external credit scores, insured limit, average days to pay, etc. 
Customer data: Customer details, contacts, preferred delivery method, etc.
Business data: Total outstanding & receivables history, deduction claims, aging graphs, pending orders, etc. 
Documents: Invoices, sales orders, contracts, credit apps & other related documents all in a single location.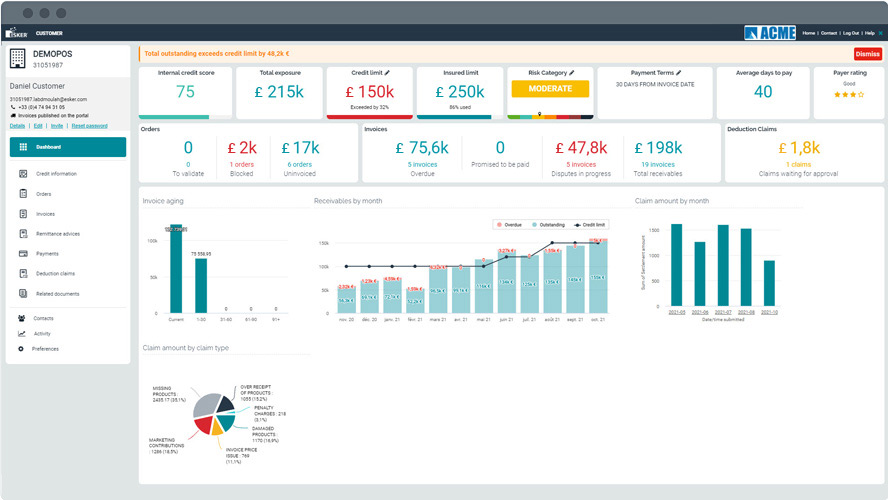 STAY UP TO DATE WITH CREDIT RISK
Make sure no major credit event goes unnoticed and puts your revenue at risk. Esker's Credit Management solution is packaged with fully customisable dashboards, counters and alerts to keep credit managers fully aware of the credit activity and potential risks:
Alerts including credit alerts, credit reviews and blocked orders
Credit application status tracking
Live charts based on credit management performance in real time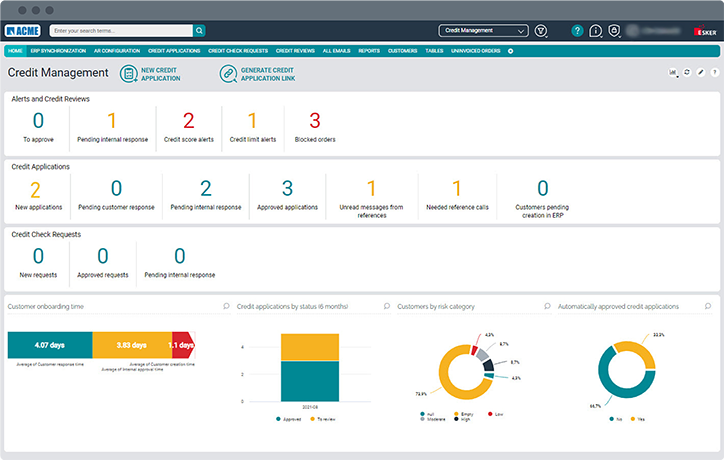 WHY AUTOMATE CREDIT MANAGEMENT WITH ESKER?
Accelerate customer onboarding time
Secure revenue by reducing write-offs & bad debt
Improve control over credit risk management throughout the O2C cycle
Strengthen relationships & morale between O2C teams
You're in good company. Explore some of the other companies and AP leaders that have benefited from automating their processes with Esker.