Oracle E-Business Suite ERP
Fully integrated with Esker's automation solutions

Esker and Oracle: better together
Companies rely on their ERP systems to do a lot — but they can't do it all. Esker solution integration capabilities allow you to automate your O2C and P2P processes directly in your Oracle® E-Business Suite ERP solution, resulting in greater process efficiency and productivity across every phase of business operations.
Esker's Accounts Payable and Order Processing automation solutions seamlessly integrate with Oracle E-Business Suite ERP solution, enabling companies to easily switch to paperless invoice and order processing. With paper and manual handling removed from the equation, companies can dramatically improve their workflow efficiency and staff productivity while providing full visibility and accountability from start to finish.  

Streamline invoice and order flows in any Oracle E-Business Suite environment. 
With Esker's connector, full AP and order processing automation can be achieved in Oracle E-Business Suite through automated master data replication and invoice/order creation. PO and non-PO invoices are processed within a workflow, including invoice verification, approval and automatic posting, while sales orders are automatically created and confirmed in Oracle E-Business Suite. Invoices and orders are tracked throughout the whole process, automatically archived for as long as needed and linked back into the Oracle E-Business Suite system where they are available to any authorised user.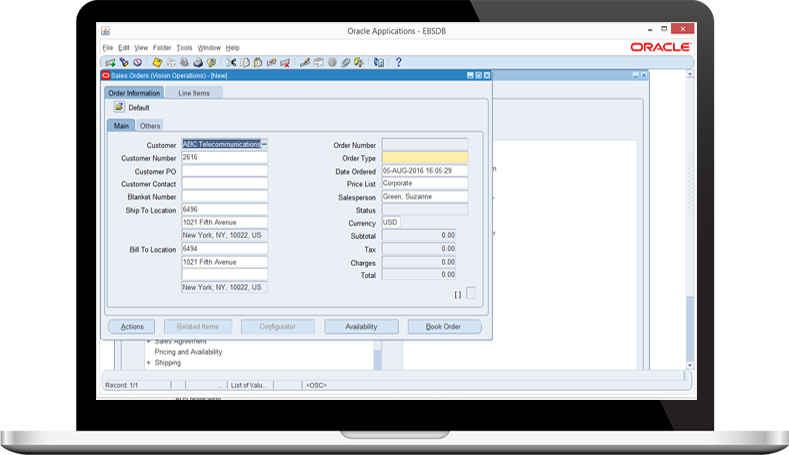 9 Reasons to Automate Orders
in an Oracle E-Business Suite Environment
Unique features and integration benefits
Automatic master data synchronisation helps leverage Oracle E-Business Suite data to support full AP and order process automation.

AP workflow outside Oracle E-Business Suite delivers better business continuity, 24/7 access, non-Oracle E-Business Suite user approval capability, easier training and greater user acceptance.

Mobile invoice approval application brings improved efficiency and on-the-road invoice accessibility for managers.

PO and non-PO invoice posting is automated and fully auditable.

Quick solution setup — communication between Esker's Accounts Payable and Order Processing solutions and Oracle E-Business Suite is fully operational in just a few days.

Document posting error management so that if an error occurs when the invoice or order is pushed to Oracle E-Business Suite, the information is made available to the user in Esker's solution.

Invoice and order archive links in Oracle E-Business Suite enable users to conveniently access the original invoice or order image. 

Proud to be a gold-level member of the
Oracle PartnerNetwork 

Esker is a gold-level member of the Oracle PartnerNetwork (OPN), providing its customers with the assurance of seamless and safe ERP integration and enabling them to further strengthen their business operations. The integration capabilities of Esker's solutions are built on proven Oracle technology and application program interfaces (APIs), providing customers with a reliable ERP integration and offering IT departments the peace of mind they require during rollouts of new technologies.
Ask us anything.
Easily automate your O2C and P2P processes directly in your Oracle ERP
solution. Any questions? We've got answers. Contact Esker today.

You're in good company. Explore some of the other companies and AP leaders that have benefited from automating their processes with Esker.