Esker Q4 2018 Sales Activity
A record year and quarter fuelled by growth in cloud-based solutions

Derby, UK — January 15, 2019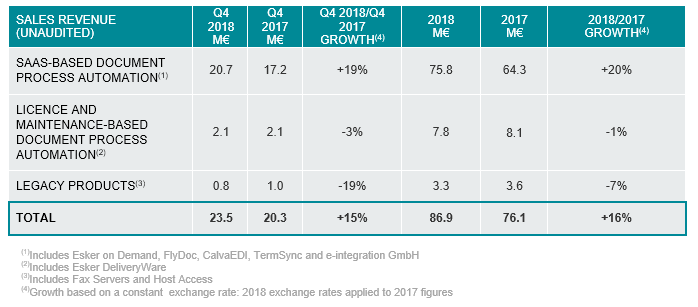 Growth in cloud-based activities
Esker Q4 2018 consolidated sales revenue amounted to 23.5 million euros, a 16% increase over Q4 2017 (15% based on a constant exchange rate). Sales revenue for 2018 totalled 86.9 million euros, a 14% increase over 2017 (16% based on constant exchange rate). The weak U.S. dollar against the euro in the first four months of 2018 explains the slight difference. Esker has once again experienced its most successful quarter and year in company history.
Esker's activity continues to be driven by cloud-based activities. Revenue from SaaS automation solutions increased by 19% over the quarter, representing 88% of the company's business. This performance reflects the implementation of numerous contracts signed in previous quarters, as well as the development of Esker's existing customers.
Strong business momentum
Esker signed a number of important new contracts in Q4 that will fuel company growth for the quarters ahead. The cumulative value of new contracts signed in 2018 is up 65% compared to 2017.
Strengthened financial structure for future growth
Esker anticipates an improvement in its operating income compared to 2017. Esker's growth management strategies have enabled the company to increase its financial results while reinforcing technical and sales investments to ensure sustainable growth in the coming years.
As of December 31, 2018, company cash rests at 25.3 million euros. With 17 million euros in net cash (11.3 million euros on December 31, 2017) and 140,000 treasury shares immediately available, Esker has the financial resources necessary to pursue its strategy of combining organic growth and acquisitions.
Positive outlook for 2019
Esker expects to achieve double-digit organic growth in 2019. Strong recurring revenue (77% of sales in Q4) provides an excellent forecast. Esker's record value of new contracts signed will feed the company's growth in 2019 and in the years to come.
If the EUR/USD rate remains unchanged at current rates (1.15), Esker will benefit from a slightly positive effect on its published growth in the first quarter of 2019.
About Esker
Esker is a worldwide leader in cloud-based document process automation software, helping financial and customer service departments digitally transform their order-to-cash (O2C) and purchase-to-pay (P2P) cycles. Used by more than 6,000 companies worldwide, Esker's solutions incorporate technologies like artificial intelligence (AI) to drive increased productivity, enhanced visibility, reduced fraud risk, and improved collaboration with customers, suppliers and internally. Esker operates in North America, Latin America, Europe and Asia Pacific with global headquarters in Lyon, France, and U.S. headquarters in Madison, Wisconsin. For more information on Esker and its solutions, visit https://www.esker.co.uk. Follow Esker on LinkedIn at Esker – Northern Europe, or on Twitter at @EskerNEurope and join the conversation on the Esker blog.
https://www.esker.co.uk/sites/default/files/press_releases/esker_q4_2018_1.pdf